Our New Project in 2021/22: Our Georga Shaw memorial garden on Military Road in Arlington, VA.  Georga's family gifted RSGC with a generous legacy that allowed us to create a lovely garden in her memory, donate to VFGC's Scholarship Fund, and donate to Arlington's AFAC food bank.  Thank you, Georga Shaw.
We continue to grow and enhance RSGC's pollinator/native garden in Rock Spring Garden Club. Our dedicated members, including JoElla Samp, Connie Richards, Barry Wood, Kate Abraham, Julie Wadsworth, Dianne Simmons, and other members chip in a lot of elbow grease to keep our gardens looking good.  We have also installed a shade garden at Yorktown High School and beautified Arlington Firehouse Station 8.
Our History with Rock Spring Park
In 2011, Rock Spring Garden Club was awarded the Bill Thomas Outstanding Park Service Award.
"In 1953, the Rock Spring Garden Club worked to save three stately oak trees in what was then a grassy area near Rock Spring. That effort grew into a many-year campaign to convince the Arlington County Board to turn a continuation of George Mason Drive into Rock Spring Park.
Club member Florence Taylor spent countless hours and several months of meetings with the Board in 1970 to win their approval. For more than 40 years, the club has planted thousands of daffodils, crocuses, and many native plants, shrubs and trees in the park. Two years ago, the club decided to make the park more sustainable by planning only native plants.
But the club's accomplishments don't end there. In 1994, member Emily DeCicco proposed the addition of a "tot trail" to introduce small children and their caregivers to the joys of walking in the woods. Recently, member Kathy Diggs donated a Dawn Redland and a Japanese maple to the park just before she passed away. The group also works with Marymount University and Arlington Public Schools students as well as neighbors in the Rock Spring Civic Association and the Yorktown Civic Association on educational and clean-up projects. The Rock Spring Garden Club sets a stellar example of how local residents can come together to make a tremendous difference in the community."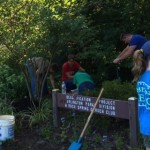 Club members, under the direction of our Civic Development Committee continues to work at Rock Spring Park to add self sustaining native plants and continue our pollinator gardens, as well as keeping the gardens tended.  Keeping invasive growth under control is an ongoing challenge, not just at Rock Spring Park, but throughout the county.