Rock Spring Garden Club is back!  We hope you all had a great gardening summer. This Fall, we are taking precautions for our meetings in that they are not automatically open to the public. This is because we cannot ensure attendees are fully vaccinated. That said, we very much welcome prospective new members who are interested in gardening, horticulture, floral design and community service. If you are interested in joining, please email us at rockspringgardenclub@gmail.com or use our 'contact' button on the site.
Here's the latest edition of The Gardenzette, Rock Spring Garden Club's monthly newsletter. Just click —-> Gardenzette-September 2021-Public  As you can see, we've been very busy over the summer months. Enjoy!
---
We wish all our garden friends a happy, healthy and safe summer ahead. Get out and garden or visit gardens this summer.  We will be back in September with great projects, speakers and programs. Interested in joining our garden club? Just email us at rockspringgardenclub@gmail.com
Here's our June 2021 edition of our award winning The Gardenzette ——> click 2106 web Gardenzette
---
---
Join us for our April 15 General meeting of Rock Spring Garden Club. Our business meeting begins at 10:00 a.m. followed by a wonderful Floral Design Program, SPRING FLING! with Floral Designer Betty Ann Galway.  Our meeting is free and open to the public. Since we are on Zoom, you will need a link so if you'd like to join us, please send us an email to rockspringgardenclub@gmail.com  Guests and potential new members with an interest in gardening, floral design, horticulture and community service activities are always welcome.
Our (virtual) program will celebrate Spring with floral designs using National Garden Club designs types, and created by Betty Ann Galway.
The first time Betty Ann Galway presented to our club, She was the Adult Education Director for Norfolk Botanical Garden. As fate would have it, Betty Ann relocated to Northern Virginia and joined Five Hills Garden Club. She is a very active member in our National Capital Area Garden Club organization and Judges Council.  Betty is a certified floral designer and member of AIFD (American Institute of Floral Design). She is an accredited Life Judge for National Garden Club (NGC). Betty has offered many floral design classes throughout Virginia, exhibits her award winning designs, and her floral interpretations has been displayed in Richmond for Fine Arts and Flowers, the Virginia Arts Festival and Virginia Stage Company's performances. We are thrilled to have Betty Ann join us for a fun, informative and inspiring floral design program.
---
We have a lot going on at Rock Spring Garden Club! Check it out by reading The Gardenzette. Just click here —-> 2104 Web Gardenzette
---
Join us for our (zoom) General Meeting and Program on Thursday, March 18, 2021. Our business meeting begins at 10:00 a.m., followed by our program at about 11:00 a.m.
This month, our program is "Our Urban Canopy" with Matthew Barker. Matt, as city arborist for the City of Alexandria VA, is responsible for the protection and expansion of 35,000 trees. Matt will discuss the challenges of conserving our area's urban canopy and the important role of citizens in tht effort. Previously, Matt worked for the U.S. Architect of the Capitol, responsible for maintaining existing trees and introducing native species to the area surrounding our Nation's Capitol.
---
---
---
Our next general meeting will be held – via Zoom – on Thursday, February 18, 2021.  Our business meeting begins at 10:00 a.m. and our speaker program begins immediately following.  Interested in membership in Rock Spring Garden Club?  Join our Zoom meeting.  Just send us an email at rockspringgardenclub@gmail.com.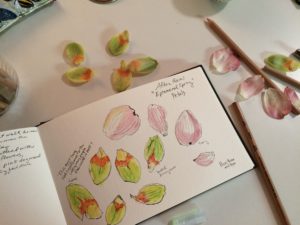 PROGRAM:  "Keeping a Nature Journal" 
Whether it's documenting your garden, communing with nature or traveling the world, Virginia Master Naturalist Lynn Wilson will show us how sketching and writing in a journal can help us all more deeply experience and enjoy the places we love.
Lynn Wilson, is a certified Virginia Master Naturalist, who most often journals in her travels or close to home along the Chickahominy River east of Richmond. This winter she is active with a group focused on observing and sketching feeder birds.
---
We wish you all a happy gardening new year 2021!  Click here for our January edition of Rock Spring Garden Club's The Gardenzette 2101 Gardenzette web <—–
Please note: It's not you. We didn't issue a December 2020 Gardenzette issue. This January edition is packed!
---